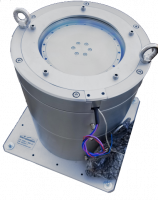 Custom motors are available for specific application needs. Whether it is a unique form factor shape, or performance requirement, Sierramotion designs and produces a product to exactly fit the requirement. With years of experience and more than 2000 motors designed with the same magnetic modelling tools, final build accuracy is +/- 5% of the design targets.
Limited angle, limited travel, rotary motors, linear motors, specialty actuators, motion systems and robotic joints can all be created to meet requirements. With modern techniques for rapid prototyping, a custom motor can be in your hands in less than 8 weeks. Many designs are already available and can be modified to meet many of the requirements with an even faster lead time.
The best end result starts with a good set of requirements. Sierramotion has the experience to review the needs and fill in the blanks covering hidden requirements not identified. This is where most projects fail because some parameter was not on a "datasheet" and didn't get factored into the requirement. Sierramotion uses years of application engineering experience to avoid problems.
Custom Motor specifications
Motor configurations range from 8 mm diameters to 2 meters in diameter, and low profile linear down to 5 mm high. Large motors are typically modular in construction using arc-shaped segments. Axial flux motors up to and beyond 2 meters in diameter or rotating gantry stages. Sierramotion will discuss the requirements with you and arrive at both mechanical and electrical parameters while predicting torque, speed, efficiency and other performance attributes.
Specifications
Diameter
8 mm-2 meter
Length
3 mm to 100 mm
Modular construction
Arc segments or linear segments
Vacuum
10-9 Torr
Space
Space Radiation rated
High Temperatures
200°C
Low Temperatures
-70°C
High torque constant
Optimized for low speed operation
Low voltage constant
For low voltage and high speed operation
Frequently asked questions
Discuss your custom motor or motion system requirements with an engineer
today
.